​Landscape Maintenance Services
Lapinski's Landscaping, Inc. is a full service landscaping company, offering the highest quality residential and commercial landscaping services in the Potomac, Bethesda, Chevy Chase, Palisades, Glen Echo, Silver Spring,
Rockville and other areas of Montgomery County, Columbia, Clarksville, Marriottsville, Glenelg, Dayton and Ellicott City areas of Howard County Maryland as well as Sykesville, Eldersburg & Marriottsville in Carroll County .
Lawn Maintenance and General Landscaping Services are available by contract from Lapinski's Landscaping, Inc.
Please call us at (240) 876-4735 to request a FREE written estimate for services.
Lapinski's Landscaping, Inc. offers a full range of Landscape Maintenance Services available in Howard County & parts of Carroll County & Montgomery County Maryland which include :
Lawn Care & Maintenance
Grass Cutting
Aeration and Overseeding
Lime Application
Decks & Railings – building, repairs, painting or sealing
Spring and Fall Clean-Up
Mulch Delivery and Application
Shrub Pruning
Weeding Grounds
Leaf Collection and Recycled Disposal
Pressure Washing
Landscape Design
Installations and Repair of Patios, Walkways, Wood Fencing, and Gravel Driveways
Plant & Shrub Installation
Installing Timber and Edging
Sod Installation
Stump Grinding
Storm and Hurricane Clean-Up with Debris Removal
Seasonal advice and monthly newsletter correspondence
​Lawn Care & Maintenance
We provide grass-cutting, edging of flowerbeds and walk ways, and blowing of grass cuttings from walk areas adjacent to your lawn on a weekly basis.
Aeration
We recommend that Aeration be scheduled for the Spring and Fall Application. Aeration will assist your lawn by bringing air to the grass roots and aids seed germination which provides new lawn growth. Aeration also loosens compacted soil, allowing the grass roots to receive more oxygen, nutrients, and water. This allows a healthier establishment of the lawn.
Pressure Washing
This new service, offered in 2004, pressure washes decks and patios to enhance your yard's appearance has become very popular to our long-standing customers. Estimates are provided upon request.
Weeding Grounds
Keeping your flower and shrub beds clear of weeds is essential to keep them healthy. Weeds crowd out flowers and shrubs thus robing them of healthy growth. Many of our customers are requesting that we weed weekly when they receive their lawn mowing service.
Shrub Pruning
Most customers have their shrubs pruned on a regular basis to control size and shape of plants, to maintain natural beauty, to control flowering or fruiting and to remove broken, weak or dead branches. Dead, diseased or damaged wood should be removed at any time in the Fall. Pruning services are recommended to be done 2 to 3 times per year.
Mulch Deliveries and Application
Mulching is normally performed in the Spring and Fall. Flowerbeds are edged by our experienced crew of workers. Mulching in the spring helps retain soil moisture and aesthetic appearance. Winter mulching helps prevent root and plant dehydration and protects from extremely cold winters.
​Spring and Fall Clean Up
By scheduling a spring clean up, you start off the new growing season by removing the debris that has accumulated over the winter and provide a clean area that allows maximum healthy lawn growth. Your lawn area is blow-cleaned of debris; weeds are pulled from flowerbeds; and debris is cleared and removed from your premises. This service is best used along with a new mulch application.
Fertilization
We recommend fertilization be done in the Spring and Fall. Fertilization assists in rejuvenating grass after the winter. Nutrients applied to the soil feed the grass roots resulting in a visual improvement (greener grass) of your lawn. Fertilization also helps promote germination of the seed. An application in the fall prepares the roots to store nutrients for the cold winters months.
Lime Application
Lime is recommended for the Spring and Fall Application. Applying lime to your lawn increases the ph level of the soil and helps to breakdown soil clays, thus promoting seed germination of healthy root and growth development.
Leaf Collection
This service is provided in the fall and runs until the last of the leaves have fallen which depends on the weather each year. Leaves are blown from your lawn, collected and removed from your property. All leaves that we haul away are disposed of at recycling facilities to help preserve our environment.
Overseeding
We recommend that Overseeding be scheduled in the Spring and Fall, this service is utilized to address several scenarios. Overseeding is performed to fill in grass that has thinned out due to being located in shaded areas, to replenish washed out areas such as those caused by heavy rainfall, and to fill in any bare areas in the lawn.
Grass Cutting
Our grass cutting services can be obtained by signing a seasonal Lawn Services Contract that runs from April through October depending on the growing season. We are environmentally friendly when cutting your lawns by recycling grass clippings and using mulching blades on all our mowers.
Landscaping Design
Please contact us to work with our landscape designer to create a landscaping design for your individual outdoor needs and enjoyment. Lapinski's Landscaping Inc. will implement the design by installing and mulching your selections.
Plant and Shrub Installation
Our crews have achieved a high standard of excellence in bed preparation and installation of quality plants and shrubs. It is the customer's responsibility to maintain proper watering when rainfall is not sufficient.
​Installing Timber and Edging
By installing timber and edging to your flowers beds you can enhance the look of your yard and keep everything in place.
Sod Installation
When your lawn is in need of a complete "make over" we can prepare the dirt and install sod for a revitalize look for your outdoor enjoyment.
Stump Grinding
Lapinski's Landscaping, Inc. owns a stump-grinding machine that will remove your old stump to allow you to replant or repair the area with sod.
Winter Storm and Hurricane Clean-Up
with Debris Removal
Do not hesitate to call us to request our crew come out after a hurricane or wind storm and clear your property of tree branches, leaves, etc… We can haul away everything for you and restore your yard to beautiful condition again.
Outdoor painting and repair
Lapinski's Landscaping, Inc. can scrape, caulk and repair your house, deck or outbuildings. We replace rotten wood with PVC. Then paint with exterior Sherwin Williams Paint. All debris is hauled away.
Decks
Decks can be built, repaired, sealed, painted or stained using Sherwin Williams products by Lapinski's Landscaping, Inc. Railings and steps can be repaired and/or replaced with pressure treated wood by contacting Lapinski's Landscaping, Inc. at www.lapinskis.com.
Paver Patios
Lapinski's Landscaping, Inc. can install paver patios and walkways to your specifications. We take into consideration appropriate heights, desired look, color coordination, textures, etc. for your outdoor pleasure.
Paver Patio Repair
If you need your paver patios rebuilt in stone dust or repaired, we can give you a free written quote. Lapinski's Landscaping, Inc. can put Polymeric Sand in between your existing patio or walkway when necessary.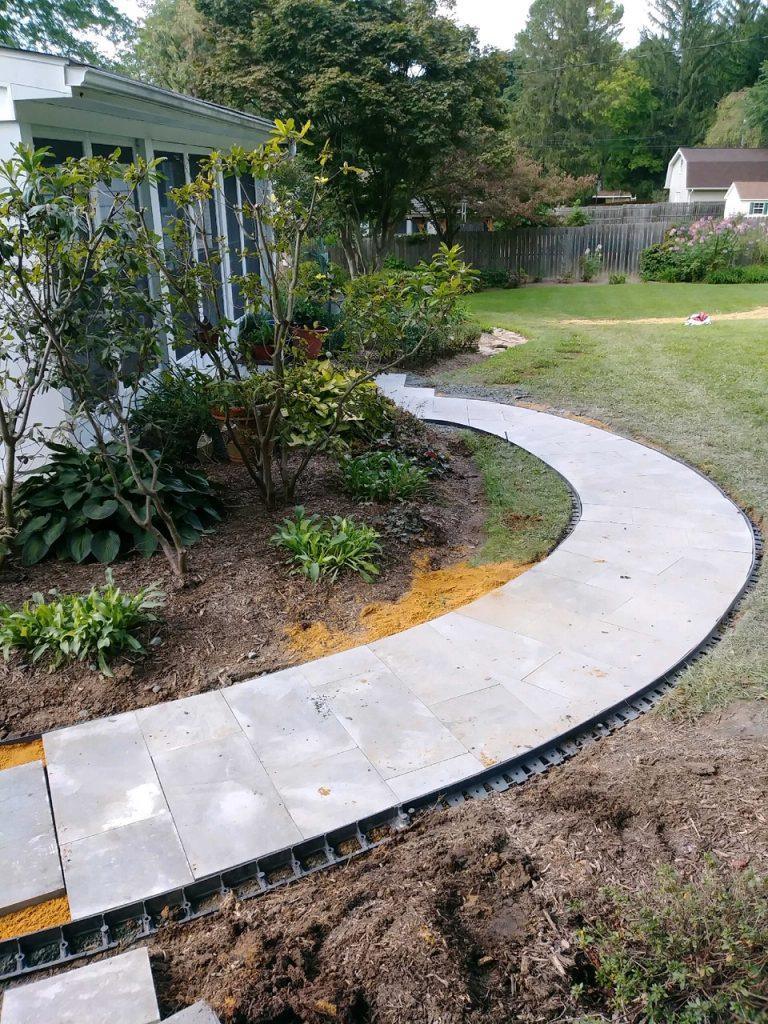 Fire Pits
Lapinski's Landscaping, Inc. can build fire pits to your specific design and outdoor pleasure.
Rebuilding stone walls
We can rebuild and repair your existing stone walls. Do not hesitate to contact Lapinski's Landscaping, Inc. at 301-924-0104.
Demolition
Lapinski's Landscaping, Inc. crew can perform demolition work for your renovation work or tear down an old barn, shed or garage. We can haul away the debris.
Water Features
You can have water features added to your present landscaping. Decide between ponds, waterfalls or fountains to see which unique feature would fit your property and created by Lapinski's Landscaping, Inc.
Riverbeds
We can rebuild dry riverbeds with river rock. This improves areas washed out by torrential rains. Lapinski's Landscaping, Inc. will assess what repairs are best suited to your specific needs.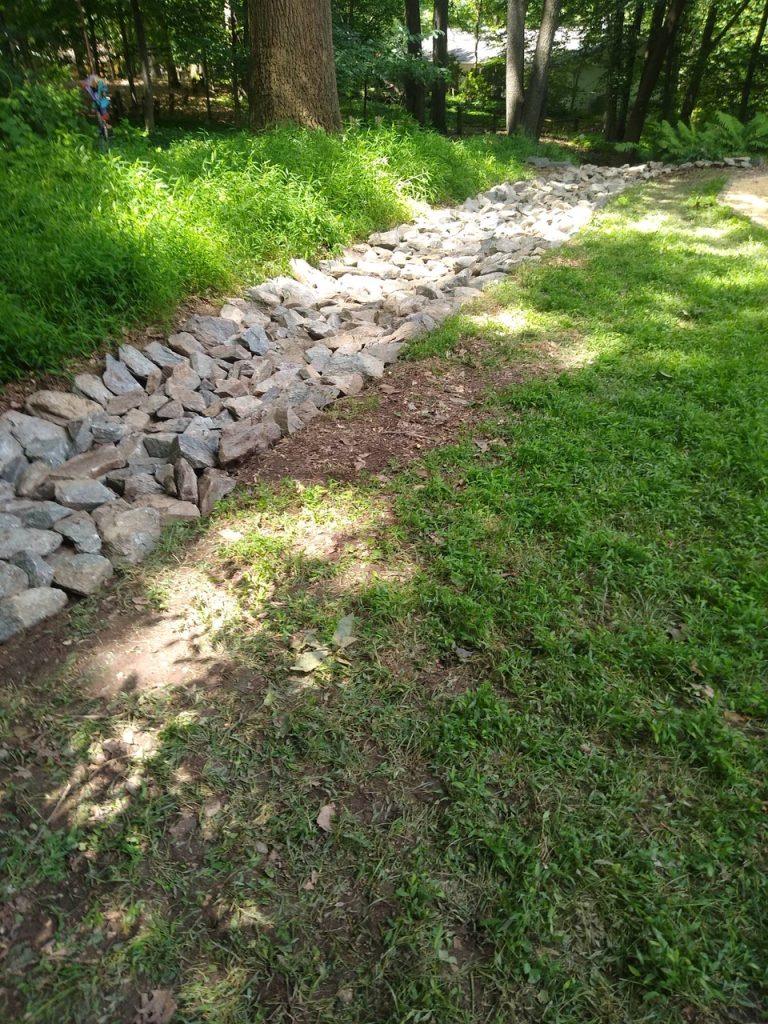 Erosion Control
We can regrade and then apply seed and straw to the disturbed areas of your lawn. Lapinski's Landscaping Inc. uses Curlex for large areas that experience run off from heavy rains.
Chipping
Lapinski's Landscaping, Inc. can limb up your trees and chip the remaining debris plus any other branches that may have fallen during storms. Do you have tree and lawn debris that needs to be chipped? Lapinski's Landscaping, Inc. can send a crew to your property and clear the area to allow you full access to your yard. Leaving you usable space for your outdoor living pleasure.
Removal
Dead and unwanted tress can be removed by Lapinski's Landscaping, Inc. Branches can be chipped and removed or spread in your wooded area.
Installation
We can create a pad for your outdoor sheds. Lapinski's Landscaping, Inc. just needs your measurements.
Clearing
We can clear your lots for you to build what you desire. Lapinski's Landscaping, Inc. can also fill in the area where your old pool was located.
Christmas lights installed
We will use systems and methods to install your holiday lights correctly for your home.
Seasonal advice
View a sample of our seasonal service recommendations.